When Alyssa & Scott determined IVF infertility treatment was their best shot at parenthood, research and word of mouth led them to Chattanooga.
---
Newly married and in their 30s, Alyssa and her husband, Scott, knew that they wanted to start trying for kids right away. After a few months of struggling to conceive on their own, Alyssa wasted no time enlisting the help of her doctor.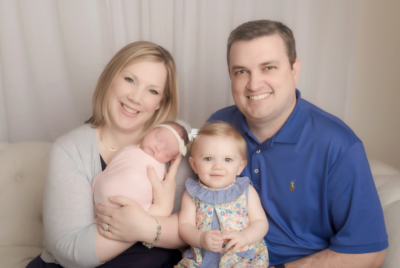 "I always had a fear that there might be an issue," she explains. "We went ahead and consulted with a fertility specialist in Knoxville after discussing our concerns with my gynecologist."
The specialist in Knoxville recommended that the couple try intrauterine insemination (IUI) coupled with oral medications to stimulate ovulation. After several unsuccessful rounds of IUI with both oral and injectable medications and an inconclusive exploratory surgery, the couple was finally able to get pregnant. Sadly, it resulted in a miscarriage.
After taking some time off from fertility treatment followed by a second opinion from another specialist, Alyssa and Scott made the decision to pursue in vitro fertilization (IVF), which they viewed as their final option to be used because other treatments had failed. This led to researching the success rates and reputations of clinics in their surrounding area.
"The last specialist we saw in Knoxville said he had seen good results with patients traveling to Chattanooga," Alyssa recounts. "I also reached out to a friend who I knew had similar issues, and it turned out she had gone to Tennessee Reproductive Medicine in Chattanooga and had a great experience."
Their questions answered, their minds put at ease
Alyssa and Scott met with Dr. Jessica Scotchie for an initial consultation to see if TRM might be a good fit for them. During their visit, they were impressed with what the facility had to offer and comforted by Dr. Scotchie and the staff's thorough and personable approach.
"They took their time with us and answered all of our questions," Alyssa explains. "They went through lots of different options, and I was very impressed with what they had to offer. Where we initially started in Knoxville, there was one doctor and she did everything. At TRM, we were reassured that they had an embryologist, two doctors who worked closely together and a full staff to take care of us."
They were also drawn to TRM's IVF Guarantee Program, as it helped alleviate some of the anxiety that often accompanies infertility treatment.
"While the program was a little more expensive upfront, it gave us peace of mind that if we didn't come home with a baby, we could explore other options, such as adoption, with the refund," Alyssa explains.
Tailor-made infertility treatment was worth the drive
In spring of 2015 Alyssa and Scott began IVF treatment at TRM. After genetic testing revealed just one healthy embryo, the embryo was transferred and the couple waited anxiously for the results. Unfortunately, the transfer did not result in pregnancy. While the initial failure was discouraging, they knew that the IVF Guarantee Program granted them the opportunity to try again.
"I think a lot of people do one round of IVF and if they don't have success they feel like that's the end," says Alyssa. "But I really think sometimes it takes multiple cycles to see how your body works. They adjusted several things between the first and second cycle."
Undeterred, the couple continued with treatment in the fall of that same year. This time, Alyssa had lost some weight, and TRM added human growth hormone to her regimen to improve her egg quality. For a while, Alyssa made multiple trips to Chattanooga every week for monitoring and treatments.
"I opted to do everything in Chattanooga rather than do monitoring in Knoxville," she explains. "The consistency of having one office monitor and manage everything gave me peace of mind. I would leave the house at 7:00 a.m., get to Chattanooga for my appointment at 8:30, and drive back to Knoxville and arrive at work in the late morning. Fortunately, my boss was very understanding and flexible during all of this."
The tweaks made in advance of the second IVF cycle led to a higher number of viable embryos. Unfortunately, the first embryo transfer did not result in pregnancy.
"They knew we were getting discouraged at this point," Alyssa recalls. "Both of the doctors were wonderful. My husband and I really appreciated that Dr. Murray had been through the same process."
At last, after the third and final embryo transfer, Dr. Scotchie called the couple with the good news. As they sat around the Thanksgiving table with their family, Alyssa and Scott joyfully announced that they were expecting a baby. Then, after a healthy and uneventful pregnancy, Emma Kate entered the world in July of 2016.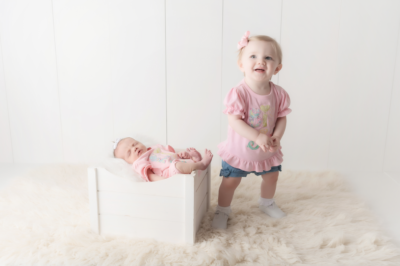 An unexpected but welcome addition
Just a couple months after Emma's birth, Alyssa and Scott found out that they were pregnant again – this time without the aid of infertility treatment. On Thanksgiving of 2016, exactly one year after informing their family of their IVF success, they let them know that baby Emma Kate would soon have a sibling.
In the summer of 2017, less than a year after Emma Kate's birth, Ellie Claire joined the family. It was not long ago that Alyssa and Scott were unsure if they'd ever have biological children, and today they are proud parents of two beautiful daughters.
"Infertility is a really lonely place to be, especially if you don't have anybody close to you that's been through it," says Alyssa. "We found a lot of support in the people at TRM. I had to continually tell myself to not give up, to stay positive and to keep the faith. It was a tough journey, but I'm thankful for it."