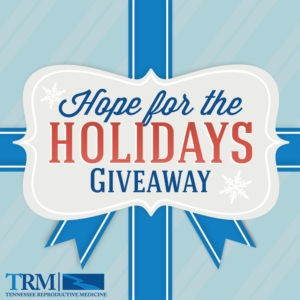 One random winner will receive free treatment at Tennessee Reproductive Medicine in 2018.
Chattanooga, Tenn. (Nov 7, 2017) – Tennessee Reproductive Medicine (TRM) is giving away a free in vitro fertilization (IVF) cycle in December to a couple or individual struggling with infertility. The "Hope for the Holidays" contest runs through November 30 and will award treatment scans, laboratory testing, egg and sperm retrieval, fertilization and embryo transfer at no cost to a randomly selected applicant.
More than 1 million U.S. babies have been born as the result of IVF treatment. Yet the financial burden of IVF often prevents individuals and couples from pursuing it. A standard IVF cycle averages $15,000 when factoring in the cost of medication, and most United States insurance providers do not cover any aspect of the procedure.
"As doctors, we realize there is such a great need in the community for fertility treatment yet it really is out of reach for so many people," says TRM physician Dr. Rink Murray. "And even if it's not, infertility is still a tremendous strain on a family."
Dr. Murray is no stranger to the emotional and financial struggles of fertility treatment. He and his wife struggled to have children, enduring multiple cycles of IVF and a heartbreaking pregnancy loss before finding success. Ultimately, it was a radical act of generosity that opened the door to that success.
"My son was the result of a free IVF cycle," Dr. Murray explains. "We'd exhausted all of our abilities, we had done many cycles, and we were really far in debt. One of the doctors lobbied the hospital to donate a free IVF cycle. We want to do the same for somebody else."
About the Hope for the Holidays Giveaway:
Entries are accepted now through November 30 at trmbaby.com/giveaway.
The winner will be randomly selected from a pool of qualified applicants and announced in mid-December.
##
---
About Tennessee Reproductive Medicine
Tennessee Reproductive Medicine (TRM) is a full-service reproductive endocrinology and fertility clinic located in Chattanooga, Tennessee. TRM's goal is to provide the most advanced medical and surgical care to patients suffering from infertility, recurrent pregnancy loss, endometriosis, reproductive endocrine disorders (such as polycystic ovary syndrome and premature ovarian failure), abnormal menses and menopause.
For real-time updates please visit Facebook.com/TennesseeReproductiveMedicine or Twitter.com/FertilityAlert.