by Stephanie Kibble
I'm a registered nurse who faced infertility and overcame the physical and emotionally draining challenges.
This was a new area of medicine for me because I'm an adult cardiac nurse. It was a great learning experience and I had to research the basics just as anyone facing infertility needs to do.
The good news is that I chose Tennessee Reproductive Medicine, and they have both the experience and the desire to figure out what is going on. They helped me make good decisions. We identified the problems and overcame them, and now I have two wonderful daughters!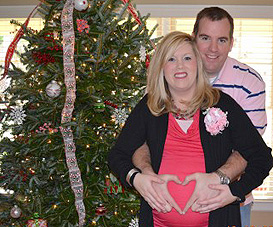 Stephanie Kibble and her husband, Dewayne
I was 27 years old when we first realized that I was having trouble getting pregnant. My family had no history of infertility, and I had never imagined the possibility of infertility.
I'm a Chattanooga native. I have a large, close family, with two sisters, a stepbrother, and a stepsister. When I was little, I always played with dolls and told everyone I wanted to be a mom; it's the one thing I always knew I wanted to do.
I met my husband Dewayne in 2008, and we decided to start our family in February 2010. However, we immediately ran into fertility issues. My menstrual cycles became extremely irregular, and I started to have hot flashes and other signs of hormone imbalances that are unusual for someone my age.
My first reaction was anxiety–If children were my lifelong dream, then not having children was my greatest fear. I had never considered the possibility of not having children, and the fear was overwhelming at times.
It really changed me; I think the greatest challenge of infertility is learning how to juggle life in the midst of overwhelming emotions. I was depressed, so completely drained, but I had to put on a happy face for everyone else–It's not easy to live with a hole in the heart that never seems to go away.
Dewayne was extremely supportive, but there really was no way that he could understand the roller coaster of emotions that comes with being a woman–It was enormously trying; infertility can be extremely hard on the marriage. If you want to "test" a marriage, try infertility. But we had a closer relationship in the end.
In September 2010, I visited my OB/GYN and immediately confirmed a variety of hormone issues.  We decided that we wanted to move ahead, and I began to research fertility specialists.
Finding TRM
I read everything I could get my hands on. I found Tennessee Reproductive Medicine's website extremely informative, and I first visited TRM in November 2010.
Even though I have a lot of medical experience, I really was scared– It was fear of the unknown and facing my worst fears.
However, my first encounter with Dr. Jessica Scotchie was incredible. She was far more personable than I expected; it turned out that she always offers a hug, a smile, or a touch of the hand.
We were on a first-name basis from day one, and she was completely different from practically any doctor I had ever met. Subconsciously, I believe I expected a more "hands-off" experience.
I think that it was this different approach that it made it incredibly easy for me to be totally honest from the start. I told her how hard things had been and how I no longer felt like a woman, and she addressed everything with compassion. She helped me calm down and made it clear that we would get through this together.
But she dealt with a lot more than emotions. As an RN, I was very impressed with the level of information that she provided in the first visit. She covered the big picture and the details, and I was really impressed with her explanation of my lab results. I left feeling extremely knowledgeable, with a better understanding of how we would manage hormonal imbalances within my own body.
We started by crossing polycystic ovary syndrome (PCOS), a relatively common condition, off the list and focused instead on my thyroid. TRM confirmed that my thyroid-stimulating hormone (TSH) levels were off.  I was extremely hypothyroid, but we were able to get the levels balanced after one month.
In the beginning of 2011, we did a hysterosalpingogram (HSG) to determine the condition of my fallopian tubes, uterus, and surrounding areas. An HSG is often called the "dye test" because dye flows through during an x-ray and the images show any injuries or abnormal structures that could impede sperm or egg movement.
The good news was that my fallopian tubes were in good shape. Everything was open and working normally. This opened the door for the next stage, and I started Clomid (clomiphene) at the end of January 2011.
Clomid is a tablet that stimulates the ovary to mature eggs and is a common, noninvasive, and inexpensive infertility treatment.
 Ovulation issues are a major cause of infertility, and ovulation induction, including Clomid, may be your answer.
The good news is that I immediately became pregnant. The bad news is that the baby had a chromosome abnormality that kept the heart from developing. After coming so close to achieving our dream, we had to make the difficult decision of how to help my body get through a failed pregnancy. Dr. Scotchie discussed several options with us, including waiting to see whether my body would pass the pregnancy on its own, taking medication to help speed up the process, or undergoing a dilation and curettage (D&C).
The D&C provided immediate closure and the ability to move forward quickly. It was a hard decision, but the right one for us.
The overwhelming joy became overwhelming pain, but Dr. Scotchie helped me understand that good could come from bad. She canceled all her appointments to perform the procedure and then called me the next day, when she was traveling, just to see how I was doing.  I've never known a doctor who cared so much–Even at the worst, she was phenomenal.
In fact, I would tell anyone who asks that Dr. Scotchie is like no other doctor I have ever known. She is easy to talk to, even with extremely difficult topics, such as miscarriage. She is a beautiful person inside and out and notices the little things that others don't imagine are important. An appointment with her is more like a conversation than an appointment.
Once again, that level of comfort creates trust that makes it easy to open up, and I really needed that level of interaction after we lost our baby. As hard as the experience was, I was ready to move forward as soon as testing confirmed that the chromosome abnormality was just bad luck and not indicative that every child we had would have genetic abnormalities. It was reassuring to have doctors who understood exactly what was going on. They believed that it was likely we had identified the process that was most likely to work (restoring my ovulation with Clomid) and that it was likely that I would have a successful pregnancy if we just tried again.
Fertility Success
In May 2011, I went back on Clomid, and the results were exactly as expected. I became pregnant with twins, and, although a lot of bed rest was required, Brooklyn Macie Kibble and Briley McKenzie Kibble were born on January 31, 2012!!!
The girls are doing great. They are really bonding, watching each other, smiling, and "cooing" at one another. Being a mommy is a far greater joy than I could have ever imagined, and I thank God every day for both of my girls!!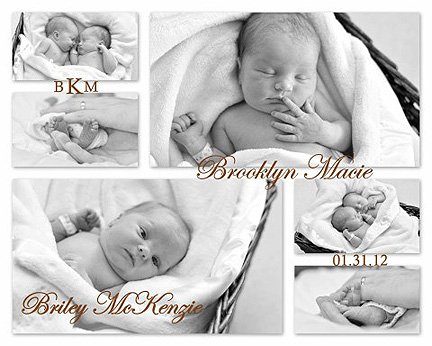 And I'm not the only one who's excited. This was an incredible event for my entire family…. They supported me the best ways they could imagine the whole time, and I look back and see how much closer we have become. Brooklyn and Briley are the only twins on my side of the family, making the outcome even more special!
And it turned out that Dewayne helped in ways that I would have never imagined. He was always supportive and understanding, but it turned out that he was able to talk about infertility with TRM doctors, friends, and family on a different level than I could. He's a great people person, and he talks about the experience all the time. It was actually surprising that we were able to talk through so many unexpected subjects and that he, Jessica (Dr. Scotchie), and I worked so well together.
My fertility story is about overwhelming pain followed by absolute joy, and the bottom line is that you have to focus on the light at the end of the tunnel to make it. The good news for me was that Dr. Scotchie and the rest of the TRM family were there to help us understand that we were going to make it, and I think that the kind of support and compassion we received is uncommon in this day and age.
When I think about my TRM experience as a mother, it's easy to focus on the compassion, the loving care, and the guided decision making.
As a nurse, I found that their level of expertise was impressive; they figured out exactly what I needed, and the babies were born a little more than a year after my first visit.
And when I put the two together, I understand that I really needed both.
It probably would have been easier to skip the analysis and start with an IUI. Or they could have gravitated to the "one-size-fits-all" approach and started with the most expensive procedure, starting with IVF, right up front.
If I needed IUI or IVF, TRM would have been the right place. They would have helped me find the procedure that was best for me one way or the other. And that really sums it up.
They put the patient's physical and emotional needs first, ensuring that the right decision is made.
I am so excited to share our TRM experience! I am forever thankful for the incredible compassion and expertise from Dr. Jessica Scotchie.